The Legal Problems of Everyday Life - The Nature, Extent and Consequences of Justiciable Problems Experienced by Canadians
Chapter V: Multiple Problems (continued)
Previous research has focused on the clustering of justiciable problems. Not only do problems tend not to occur in isolation, in fact, they tend to occur in according to distinct patterns. In analyses of data collected in 2001 and in 2004 Pleasence has identified a number of problem clusters, connecting family law problems and domestic violence, homelessness and police action and an economic cluster linking consumer to debt and several other problem types[173].
A standard cluster analysis with the correction for chaining was performed on the data.[174] The tree diagrams shown below present the results of the cluster analysis.
Figure 4: Dendrogram for Cluster Analysis Two or more Problems
The cluster analysis including all multiple problems did not distinguish a very clear pattern of clustering. The only clear pattern of clustering links consumer, employment and debt problems. Consumer and employment problems are most closely linked. These two are linked in a cluster of three problem types with debt problems. Immigration problems are linked with disability benefits problems. In turn, this pair is linked with problems related to social assistance. Otherwise the tree diagram seems to grow progressively as the remaining problem types are added, showing little evidence of clustering.[175]
Figure 5 shows the results of a similar cluster analysis carried out using respondents reporting five or more problems. Clusters appear much more distinctly for this high order multiple problem group.[176] The same cluster of debt, employment and consumer problems appears clearly. Again, immigration, disability pensions, and social assistance problems appear as a cluster. However, for the multiple problem group, threat of legal action appears as part of the cluster. This could be linked either to appeals related to aspects of the refugee or immigration process, or to problems related to obtaining social services and disability pensions. Problems related to housing and to problems stemming from police action are linked in the tree diagram showing the results of the cluster analysis of multiple problem respondents. The exact nature of the linkage is unclear. It is possible this represents a set of general background circumstances in which the people most likely to report housing problems live in lower socio-economic status neighbourhoods and are more likely to come into contact with the police.
Figure 5: Dendrogram for Cluster Analysis Five or more Problems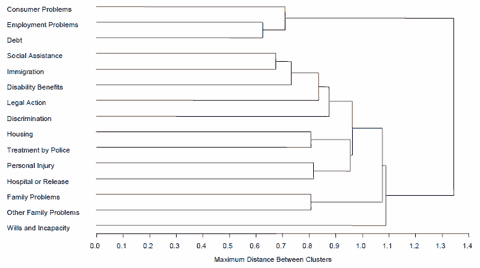 Personal injury problems and problems related to hospital treatment and release are clearly related. These are linked to the housing and police action problems and, in turn, to the cluster containing social assistance and disability benefits problems. Finally, relationship breakdown problems and other family law problems form a primary link for multiple problem respondents. These two problem types are connected more generally with other types of problems. Finally, problems related to wills and powers of attorney appear to stand apart from the others.
This shows clearly that the clustering of justiciable problems becomes more pronounced for people experiencing multiple problems, especially higher order multiple problems. This draws attention to the process of social exclusion, which can be defined in terms of multiple, linked problems that define the lives of disadvantaged individuals. The fact that clustering appears more clearly with multiple problem respondents provides evidence of social exclusion.
The standard cluster analysis portrayed above links problems using statistical methods. The causal connections among the problem types making up clusters are inferred theoretically. Pleasence, et. al point out "[p]roblem types do not have to cause or follow on from one another in order for a connection between them. Connections can also stem form coinciding characteristics of vulnerability to problem types, or coinciding defining circumstances of problem types."[177] However, the extent to which problems are connected is important because of the possibility that one problem can trigger another, and in turn, at least in some cases potentially setting off the cascade effect of multiple problems that produces social exclusion. Respondents with at least two problems were asked if they felt that one of the problems had been a trigger problem for the other(s).[178] In 29.2 per cent of the problems reported, respondents felt that one problem had been a trigger for subsequent problems.[179] In other words, there had been a causal relationship between the problems. Figure 6 represents the pattern of trigger and consequent problems. The arrows turning back on the boxes indicating problem categories represent trigger and consequence linkages involving specific problems within problem categories. The arrows between the problem types represent triggers and consequences between problem types. The arrows indicate the direction of the trigger-consequence links. The numbers beside the arrows represent the number of times a problem of that type was reported as a trigger problem.
Figure 6: Trigger Effects Among Problem Types
Problems in ten of the fifteen problem types produced trigger effects within- and between problem categories. Problems related to social assistance, disability pensions, immigration, hospital treatment and release and housing were not triggers for other problems in this sample.
The largest number of trigger effects occurred within problem types, with 227 incidents reported across all categories. Employment problems had the greatest number of trigger effects, a total of 90. Other problem types that were triggers within the same problem categories were: family: relationship breakdown (59), consumer (19), debt (25), wills and powers of attorney (12), police action (9) and personal injury (7).
Respondents reported about half as many triggering events between problem categories as within problem categories, 150 in all. Debt problems as a trigger for consumer problems was the most frequently-reported causal connection: debt
consumer (25). This was followed by trigger and consequence linkages between employment
debt (18), relationship breakdown
debt (10), relationship breakdown
legal action (9), relationship breakdown
other family (8), employment
consumer (8), debt
legal action (8), discrimination
employment (8), personal injury
employment (8), consumer
employment (7), consumer
legal action (6), relationship breakdown
consumer (5) and personal injury
debt (5).
Problems related to police action and problems involving wills and powers of attorney are self-contained, with no linkages to other problem types. Other family problems are related only to relationship breakdown problems. Discrimination problems are related only to employment problems. The threat of legal action is a consequence of three problems, family: relationship breakdown, debt and consumer but has no triggering effect.
The standard cluster analysis did not produce clearly defined problem clusters. It is possible, having identified problem triggers, to revisit problem clustering around trigger problems. Approaching the data this way, there are five identifiable clusters. The largest cluster of problem types revolves around family law: relationship breakdown; debt (10), threat of legal action (9), other family law problems (8) and consumer (5) cluster around relationship breakdown.
Trigger Patterns Within Problem Types. Some problem types exhibit a considerable amount of within-category triggering. This would be expected within the family law: relationship breakdown category.
Figure 7. Trigger Patterns Among Relationship Breakdown Problems
It is not surprising that there are trigger patterns involving particular family law problems. Separation normally leads to divorce. Both separation and divorce trigger problems involving marital property, child support, spousal support, child custody and access. There has been a long-standing recognition, expressed in the development since the late1970's of unified family courts that family law matters are connected and there ought to be a venue to resolve family law matters holistically. Resolving only some issues while leaving others unresolved in family courts of split jurisdiction risks prolonging and exacerbating the consequences of family break-up.
However, it is important that there are also patterns of triggers and consequences within other problem types. Figure 8 shows the trigger patterns for employment problems. It is clear from the trigger patterns that certain problems trigger several others, seemingly compounding the problem cluster experienced by the individual.
Figure 8. Trigger Patterns Among Employment Problems
Figure 8 also shows a relatively large number of trigger problems within both consumer and debt problems. However, the pattern of triggers and consequences are less concentrated that for family or employment problems, thus making it difficult to portray the trigger patterns with a diagram uncluttered by too many boxes and lines.
Within consumer problems the main trigger patterns was between problems with large purchases and problems with repairs. Presumably, after failing to have seller make good on the warranty for some large purchase, some people have problems with the subsequent repairs to the item originally purchased. Other links were observed between problems having repairs carried out properly and product safety, and between having and insurance claim unfairly denied and repairs not done properly. Some of the trigger patterns observed in the data make intuitive sense. It is evident, however, that many of the connections reported between trigger problems and consequent problems have stories that can only be understood with greater detail than was, or could have been, gathered in a telephone survey.
As well, there were many links that occurred with low frequency among specific problems in the debt category. The most common trigger patterns reported by respondents were between bankruptcy and harassment by a collection agency, harassment by a collection agency and being unfairly refused credit, between dispute over a bill and being unfairly refused credit and between harassment by a collection agency and bankruptcy (the reverse of the first trigger pattern). Other trigger patterns observed involved bankruptcy and being unfairly refused credit, dispute over a bill or invoice and collecting money owed, and between being harassed by a collection agency and a dispute over a bill or invoice. Again, the analysis of these data made clear that greater richness of detail is required to fully understand the trigger patterns.
Nearly 18 percent of all respondents reported having experienced three of more problems, the lower limit for the number of problems defining the multiple problem group. The risk of problem is cumulative. That is, the more problems one experiences, the greater likelihood that the individual will experience even more problems. There is some preliminary evidence that multiple problems signal the presence of social exclusion among the multiple problem respondents. The clustering patterns seem more clear for the high multiple problem group. Further, the greater the number of problems the more likely respondents are to experience certain types of problems that would seem to be particularly related to social exclusion, debt, social assistance, disability pensions and housing. This suggests that legal services providers should concentrate on identifying and addressing the needs of multiple problem individuals and families.
---
[173] Pascoe Pleasence, et. al., Causes of Action and Pascoe Pleasence, Causes of Action, 2nd Edition, pp. 65 ‑ 72.
[174] (reference from Paul)
[175] This pattern resembles the chaining effect described in footnote 29, although the correction for chaining was used.
[176] Cluster analysis was performed for respondents with two or more, three or more and four or more problems. Clear clustering patterns did not emerge for any but the group with five or more problems. Small numbers precluded cluster analysis on higher order problem groups.
[177] Pleasence, et, al, 2006. p. 65.
[178] The questionnaire did not attempt to identify time ordered strings of problems or to ask respondents about causal chains of multiple problems. Experience from the 2004 survey was that asking year and month of the occurrence of problems to allow time ordering produced too much missing data at the month level. Thus the ability to create problem strings was limited. Therefore, in the 2006 survey respondents were asked to identify triggers. In this case, however, it was decided that asking respondents with higher order multiple problems about sequences was too complex and time-consuming for the telephone interview .
[179] The specific wording of the questions was: "Do you feel that any of these problems are connected with one another? That is, one of them might have caused or contributed in some way to the other." Then: "If yes, which one of these problems would you say was the trigger problem?"
---
Report a problem on this page
Date modified: